FREE SHIPPING
on orders over 600 €
Featured: 'Henriette' & 'Henry'
Published : 08/21/2019 09:37:52
Categories : RIMO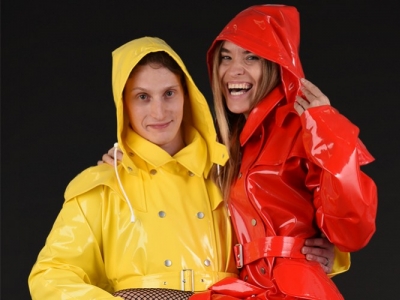 Did you already know that we basically make all our models for each gender? Some coats and capes are already available under different names for ladies and gentlemen in our assortment - and we are happy to make all others on request according to your wishes.
A good example of such a "double model" are our coats Henriette and Henry. Both are based on the same basic cut, but differ in size (especially the sleeve length, as mens usually have longer arms) and buttons. While for men the buttons are usually attached to the right, women normally wear them on the left side.
As a small historical reference: This difference is due to the peculiarities of the 16th century. At that time men often wore their swords or sabers on the left hip - and this weapon could be simply drawn better and without tangling, if the buttons were on the right side of the garment.
But back to the wonderful RIMO vinyl coats: If you often go on a walk as a couple being exposed to the elements in fall or winter, our two models "Henriette" and "Henry" can be combined perfectly as matching clothes. Just choose your favorite colors and order your raincoat in sizes of your choice.
The basic cut is fashionable-chic and comfortable. Cropped sleeves and a small shoulder cape give the coat a special character.
Photos and video footage of our vinyl coats "Henriette" & "Henry"
From our last photo shoot, of course, some photos and two short videos of these beautiful raincoats emerged. You can see our vinyl coat "Henriette" in the colors yellow and red. Of course, you can also choose any other color for your personalized coat from our wide range of colors.
You can see the two rain coats in motion in these videos from our photo shoot:
Related products